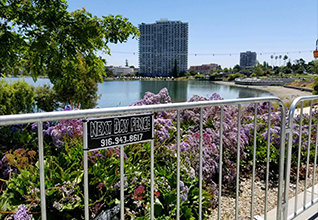 Our crowd control barricades rental in Sacramento, CA, takes care of safety and security issues on your site. This form of event or construction site rental is ideal for every type of barrier situation, from public gatherings to emergency situations to repairs. We know how to recommend the right product for the job, and we help you direct the public where they need to go. We offer great crowd control barricade rental deals, especially to longer term clients, with rental terms ranging from one hour to one year!
When you need great value without compromising on your security needs, we are your crowd control barricade supplier. An event crowd control barricade can control foot traffic or vehicular traffic, and it is an essential element in ensuring things run smoothly. It is impossible to put a security guard everywhere that is off limits, so make the statement with a crowd control barrier. For advice and information regarding the difference between a pedestrian crowd control barricade and one intended for motor-vehicle traffic, please speak with our friendly customer service agents.
All of our crowd control barricade products are portable, so they can be used virtually anywhere and even reconfigured on the day should you decide they are not ideally placed. We are happy to provide delivery and full installation, or allow you to take care of the setup on your own—a popular option for municipal purposes as well as construction sites. Whether you need a temporary railing at an excavation site, or would like to direct pedestrian traffic away from an accident, our fencing and barriers are ideal.
Let us provide the specific, custom solutions you are looking for.
Venues:
• Weddings
• Fairs & Festivals
• Parades
• Schools
• Theme Parks
• Air Shows
• Sporting events
• Concerts
• Shopping Malls
• Hotels
• Car Shows
• Movie Sets
• Retail Stores
• Races
• Marathons
• Community Centers
Give us a call today and learn more about our crowd control barricades for parades, festivals, camps, exhibitions, sporting events, construction sites, and job sites in Sacramento, CA, at Next Day Fence – Sacramento Fence Rental.
Now offering Portable Toilet rentals!
 GET YOUR FREE NO OBLIGATION QUOTE